LE STER Estate Agents, based in south Finistère Brittany, offers a range of
property sales, purchases, long-lets, all types of property management, villas, houses and flats, building plots available in Douarnenez
Bénodet Fouesnant Trégunc-Concarneau
Trégunc
Land of the standing stones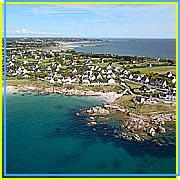 Tregunc combines both the attraction of the countryside and the activities of the seaside. It is a seaside resort whose appeal resides in its variety. With its 23 kilometers of coastline, Tregunc is a sea paradise : beaches, creeks, harbours wich offer various maritime and nautical activities : from relaxing under the sun to catamaran racing or fishing...

You can admire at the bend of a lane many witness of the past : chapels, springs, ancient outside bread ovens, wayside crosses, and especially standing stones, unique architectural specificity in France wich permited to obtain special recognition by the environment government. In Trevignon the dunes and ponds constitute a protected coastal nature zone : there you can observe rare species of birds and flowers.

Visitors can enjoy a variety of regular events to suit every taste : concerts, fest-noz, pardons. Tregunc can boast charms of unspoilt nature and patrimony, and when you visit us, you will love its genuine beauty, its know-how and also its dynamism.


Our restaurants welcome you :

Their tables are famous for their seafood, including oysters and shellfish, but you can also discover the thousands of flavours from our area with our wheat and buckwheat crepes.
Let you be captivated and take the direction of Tregunc.!

Our estate agencies in Brittany at your services:

Design © 2009 e-declic